"Came back after three days with scratches, bruises and a fat lip, but oh what a hike and a view I will never forget! A volcanic lake, the Pacific ocean and three countries in my sight: El Salvador, Honduras and Nicaragua."
This is what I wrote under a photo I posted on my Instagram when I was, freshly showered, sitting on a comfortable bed in Leon after two nights in a tent and 25 km of walking, mostly uphill, on 35° Celsius. The hike to Cosigüina volcano I did between Christmas and New Year's was so awesome it hurt. Literally.
A headache
The first leg of the journey had nothing to do with hiking, but that doesn't mean it was any less tiring. We took an early morning chicken bus from Leon to Chinandega and another one from there to Potosí; four hours on a bus altogether. It sounds easy; you just sit there and you wait for the time to pass, what else. Well, in Nicaragua there's so much else.
I have never been on a bus more crowded than the one we took to Potosí. It was 33° Celsius outside, I can't even imagine how much more in that old American school bus. I didn't get a seat, so together with another 20 lucky sweaty people we were standing in the aisle, pushed against each other, for at least half an hour before the bus actually took off. Market sellers were getting on the bus in the front, pushing their way to the back of the bus where they got off, selling everything they could possibly think of, while, of course, screaming in a melody what they were selling. From chicken wraps, water, juices, tomatoes, onions and cotton candy to razors, earphones, hemorroides pills. The "pooollooooo, tengo pooollooooo" lady passed five times, I'm not kidding. I was this close to telling her that, seriously, nobody wants her pollo anymore, whoever did, had it in the first three rounds already.
All the screaming, sweating, pushing and shoving, dehydration and standing almost made me faint, but successfully gave me a headache before we even started the hike to Cosigüina volcano.
Scratches
I took an aspirin and my headache was gone by the time we got to the foot of Cosigüina. I was afraid it might come back though – with migraines running in my family, especially when it's as hot as it was then, I didn't want to risk it. So as soon as we started the 12 km hike uphill, I began drinking water as a crazy person. There were two positive sides to it, I thought: I will be as hydrated as possible and my backpack will be lighter! Together with my things I was also carrying a tent and six litres of water, so my backpack weighed about 15kg. Of course I wanted to make it lighter as soon as possible.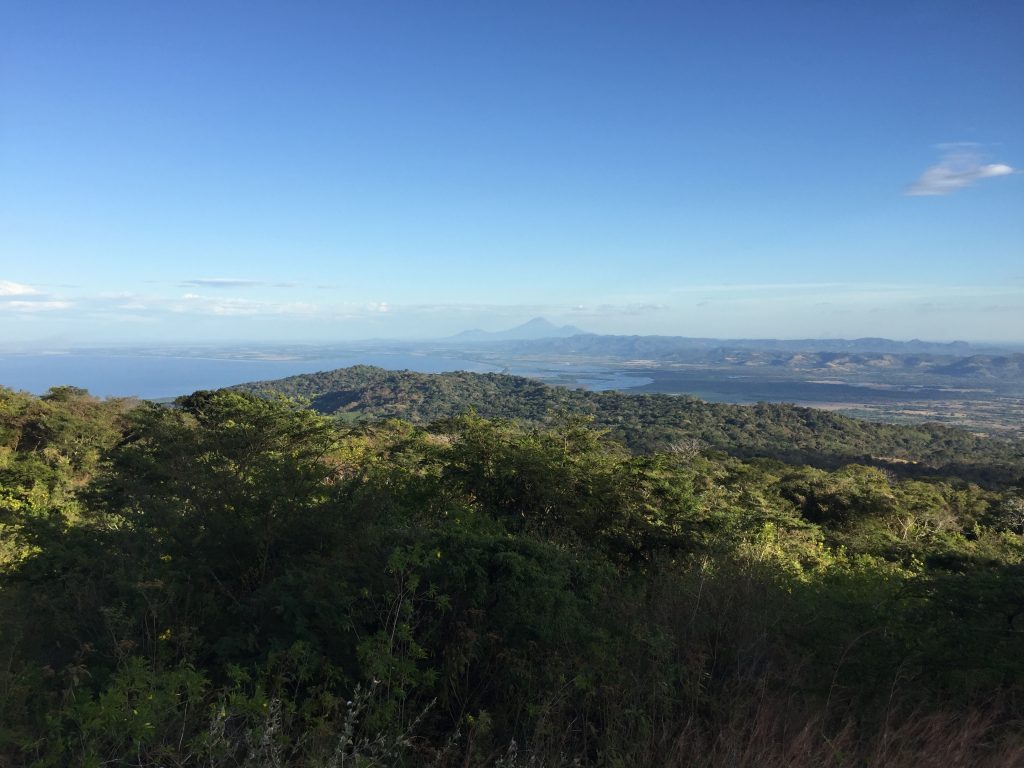 One of our two guides changed to long pants before we started walking. I was thinking of doing the same but my leggings were black and it was just so hot that I decided to stay in my shorts.
Not even 30 minutes later I understood what Will's long pants were all about: the path went through low grass and bushes and we were walking over nettle patches with branches blocking our way. My legs were itchy, red and bloody.
It's been a week since the hike and I still have Cosigüina souvenir scratches up high as my thighs.
Bruises
"Okay, but now I'm not kidding. I'm serious: there are rattlesnakes here, so be careful," our guide Marden told us. We were joking about seeing snakes the whole afternoon already, and we actually saw a coral snake at one point. Marden is one of those people who love snakes, so he took a picture of the coral one and was so very excited about the yellow and red snake. But when he told us about rattlesnakes, he didn't smile, not even a bit. Oopsie, I thought to myself.
We still decided to give it a try in getting to the sunset point – a hill overlooking the Pacific; maybe we would get to see all the way down to Panama. It was half an hour walk away. Through the rattlesnake bushes.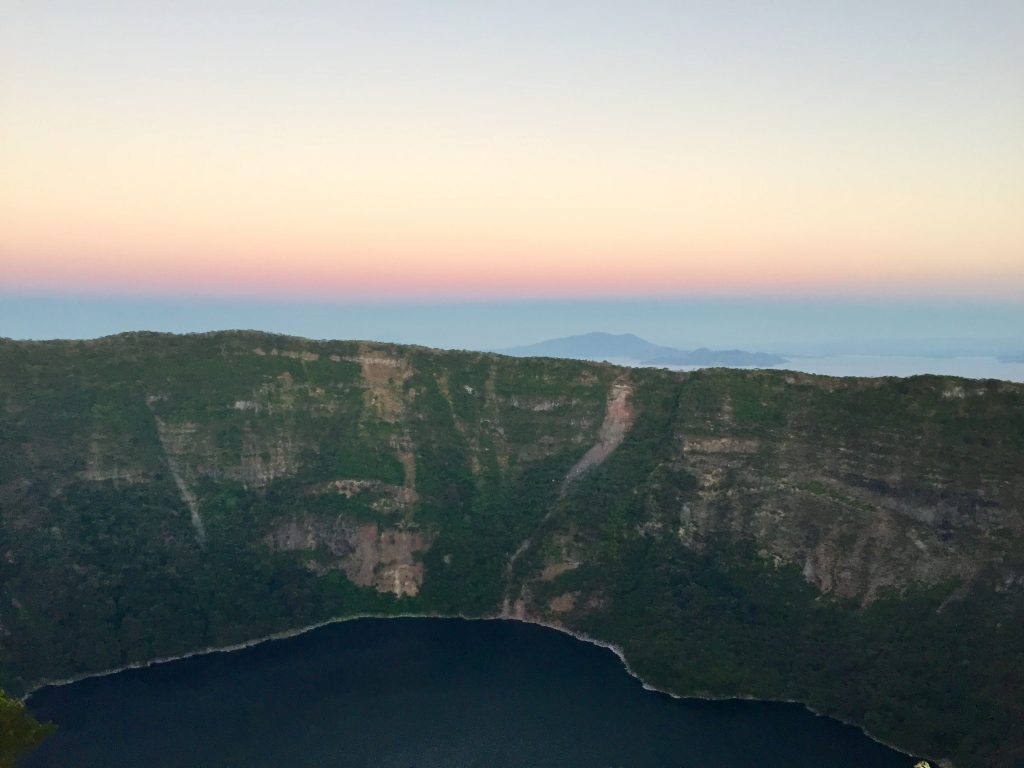 There used to be a path, but now it's just a slight indication of it, so we were literally making our way through the dry bushes. Marden was first, with a machete, hacking his way to the sunset hill, the rest of us four followed. Sometimes almost crawling under branches, other times stepping over tree trunks and rocks. There were so many things to look out for – not to step into sinkholes along the path, not to go too close to the edge of the crater, not to let the branches hit your face – that after ten minutes I completely forgot about looking out for rattlesnakes. I didn't even notice the scratches anymore, but I felt it every time a branch hit me in the legs or arms. The next morning I had a few blue and purple bruises added to my scratches collection.
Bee stings
As we were walking through the dry bushes almost in a brace position to avoid branches hitting our head, Marden, who was some meters in front of us, yelled that he just passed a bee hive and got stung by a bee. His idea for the rest of us was to just run past it as quickly as we can. My first reaction: "No freaking way!"
I still remember that time I got stung by seven giant bees at the same time somewhere in the forests of southern Sweden. They got under my shirt and since then I'm terrified of bee hives. Jasmine, a German girl volunteering in the non-profit trekking association we did the hike with, however, hasn't been to the forests of southern Sweden and wasn't terrified of bee hives. So she ran past it as quickly as she could. Two seconds later her screams were echoing in the lake crater of Cosigüina. She got three stings and an allergic reaction on her arm the next day – it swell to double the size of her other arm.
One girl down – and by that time one sun down as well – we decided to give up on the sunset hill and just go back to the camp.
Lost voice
Our camp was 15 minutes walking from the volcano top. It felt almost like home, as the board with camping rules had an EU flag on it. The EU is allocating development money to Nicaragua under the EU sub-regional programme for Central America for example and one of the focuses of the programme is environment.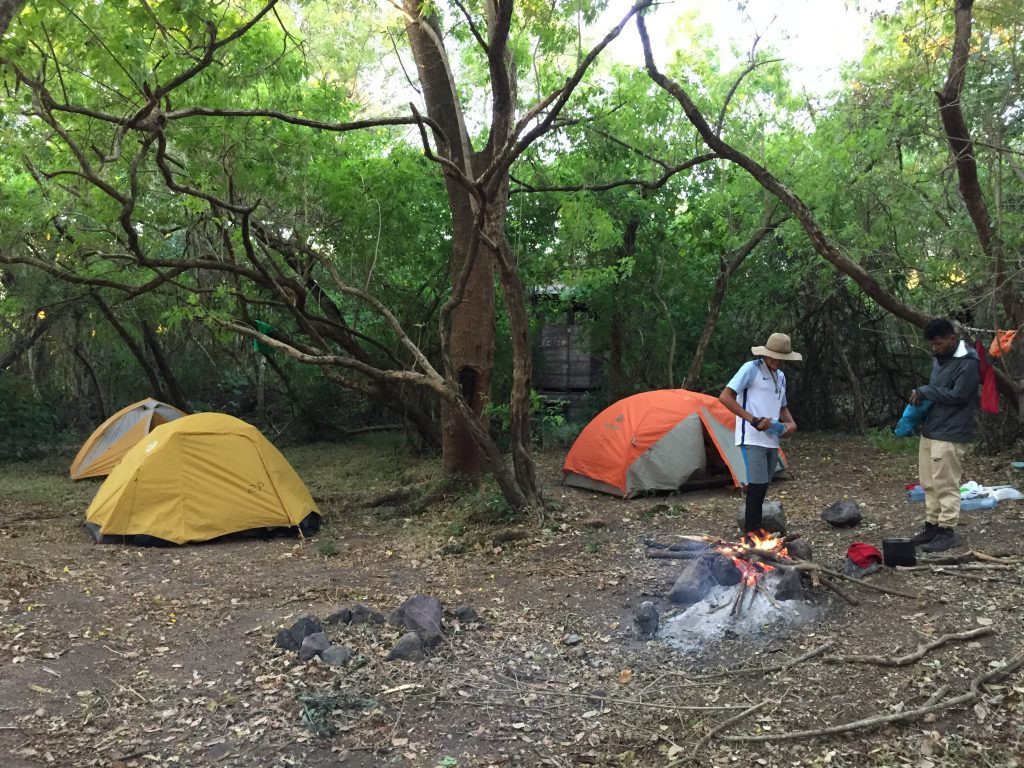 While we were sitting around the camp fire before going to our tents that night, and I was counting my scratches and Jasmine was putting cream on her then only slightly red arm, we were telling each other jokes. Will especially liked jokes and told us quite a few that day. The following morning he woke up and wasn't able to speak anymore. His voice was completely gone, he was only able to whisper. Not so convenient when you're hiking in a forest with venomous snakes, I thought. How are you going to scream and panic if you see one?! Will didn't mind that much. "I was bitten by snakes before," he whispered. Well okay then.
A sore ass
For 'buenas dias' the next morning we hiked from the camp site to the volcano top once again, this time to see the sunrise.
It was amazingly beautiful; the sun came out behind San Cristobal, the highest volcano in Nicaragua. It was so quiet and peaceful up there and even though it was only 5.30 in the morning I started to feel the consequences of the hike the previous day: my legs were definitely shakier than the morning before.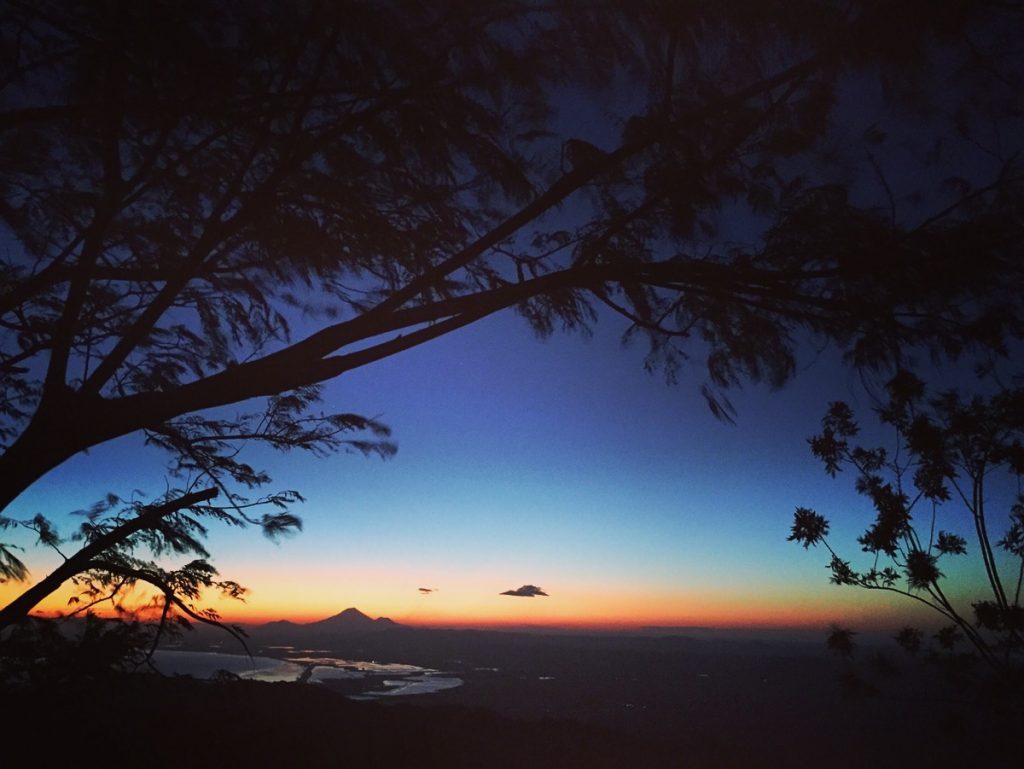 Later that day everyone else started to notice my weak legs too, when, on the way down from Cosigüina, I slipped on the steep gravel path and fell on my but basically every half an hour. At first I was trying to fight it and get out of the slip somewhat gracefully, but at one point I just gave in, let my backpack catch me every time and laugh at myself.
A fat lip
For the next one of the medical inconveniences on our list my mom would say it can only happen to me. By now she is more or less used to my unusual injuries, so when I go on a trip and we're saying goodbye she says "take care" and adds "don't break your teeth laughing again." It happened once in Paris, but that's another story.
Anyway, after the hike down from Cosigüina we went for a swim in the hot springs of Potosí. We were hot, it was hot, so we would all prefer a cold spring, but hey, you work with what you've got, so a hot spring it was.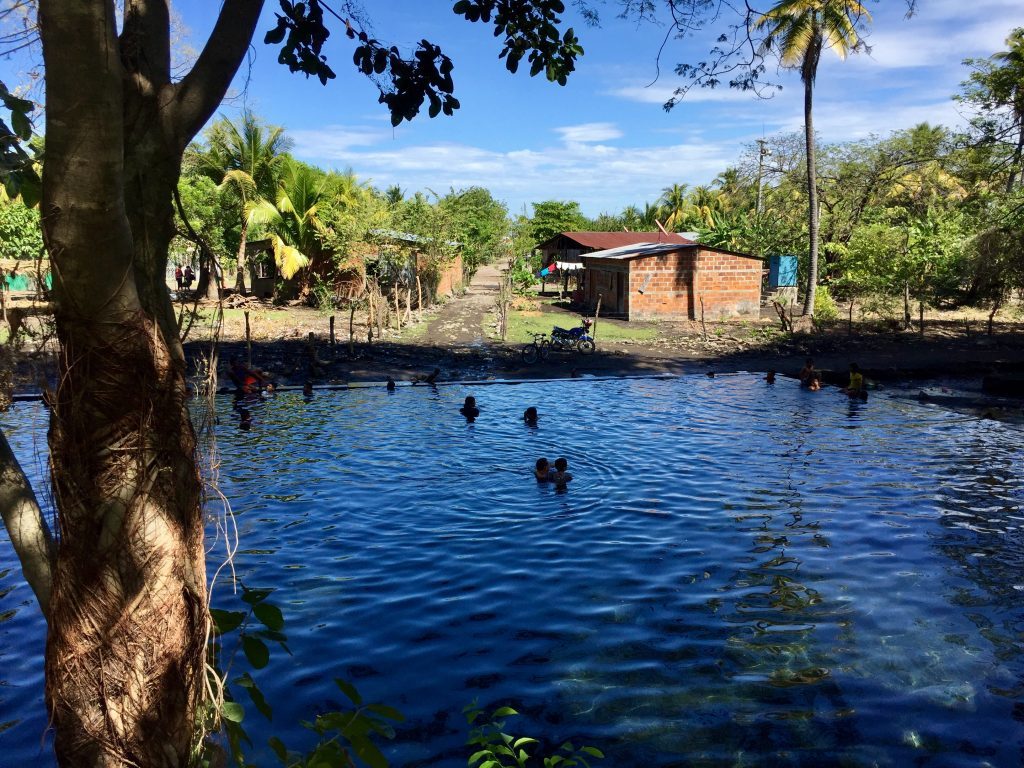 We all jumped in. Will and Marden with their frisbee and I with my gopro camera. After I took enough videos of local kids diving in the water and playing, I decided to join the frisbee game. I tightened the band of my gopro around my wrist, screamed "I'm in too!", lifted my arms up to catch… See where this is going?
My first catch was successful, I got the frisbee. But I also got my gopro – straight into my lip. My front teeth were ok this time, but I cut my lip in two places and for a short time in Potosí I looked like I just came out of a street fight.
A hurt shin
After all the hiking and the hurting we did in the first two days, we spent the rest of our three-day trip relaxing. We visited the mangroves and camped the second night at the beach on Rancho Tranquilo in Padre Ramos. It was really tranquilo: a swim in the Pacific, sunset with beer on a long sandy beach, napping in hammocks and… frisbee. Will and Marden couldn't get enough of their frisbee. Even my fat lip incident and the fact that they almost lost the thing in Potosí twice by throwing it into someone's back yard didn't convince them to just stay put and relax. After two hours and several random passerbyers participating in the game for a bit it ended with Marden limping off the beach with a hurt shin.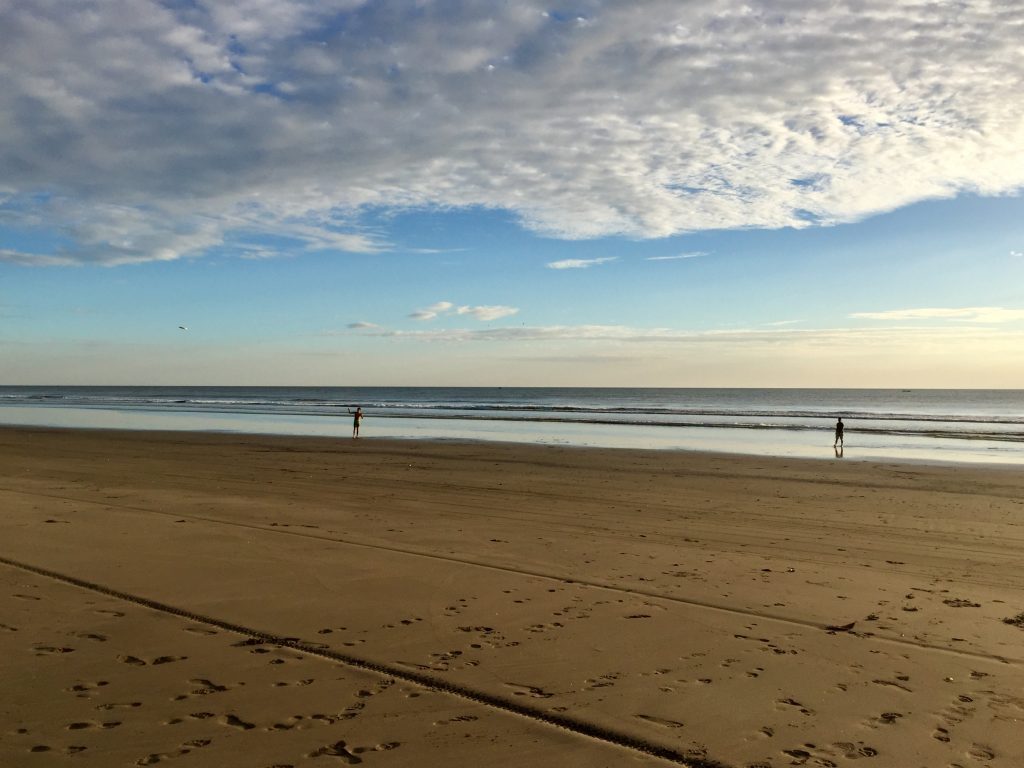 So there, that was the last of our plentiful medical inconveniences on our rather short hike to Cosigüina volcano. But oh what a hike and a view I will never forget! I would do it all again in a heartbeat.