This year I wasn't expecting much for New Year's. The mere fact I was in the middle of my travels somewhere in Latin America was more than good enough. Then I ended up adding a four star hotel, which to my knowledge included a free massage every day*(1), to it and it was even better.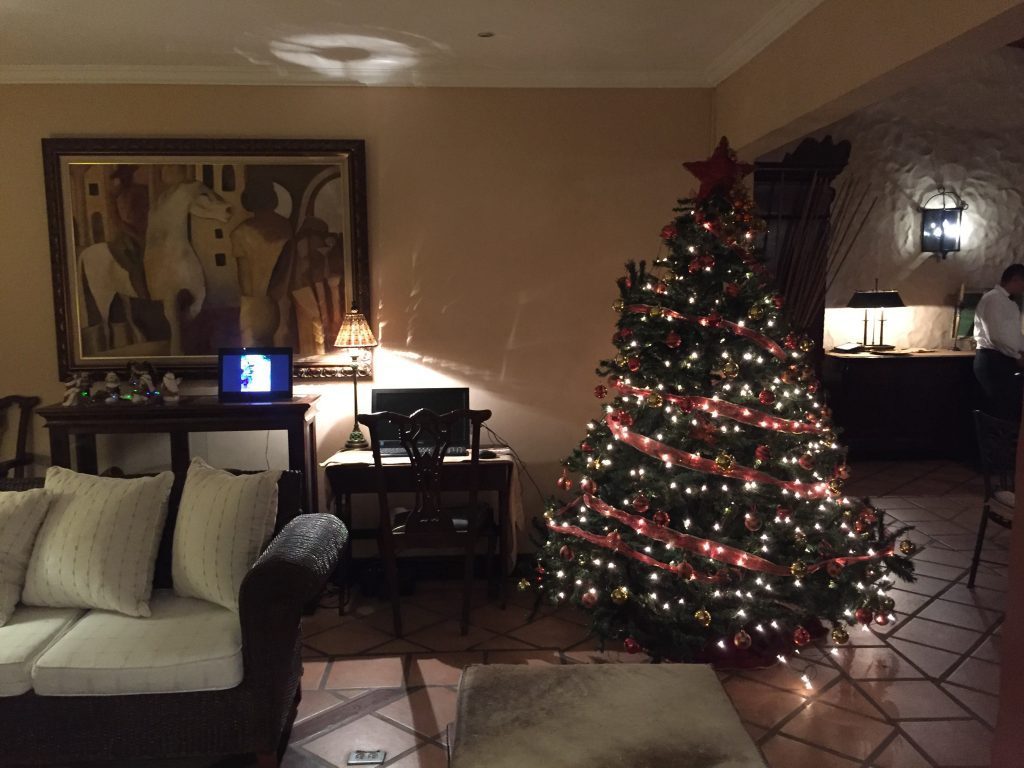 Well, my overthinking brain still came up with a night that would make for a cool New Year's eve, but Nicaraguan reality made it the weirdest night of my trip and definitely my weirdest new year's eve. And also one funny story.
This is how my expectations watered down into a very odd reality.
Expectations: A tasty dinner in a fancy restaurant.
Reality: Delivery chicken on a plastic plate by the pool.
Apparently Managua, the capital, is the one place you shouldn't visit in Nicaragua. Nobody told me that before booking three nights in a fancy hotel with a free massage every day*(2). Well, after our non-refundable booking there were many smartasses who knew Managua isn't the place to be. It's too big, it doesn't really have a city centre, or at least not a nice one, it's dangerous and you shouldn't be walking around too much because you might end up in the wrong neighbourhood. You also shouldn't be taking taxis too much, because a lot of them are illegal and extortions and robberies of tourists do happen.
Nonetheless, I set my mind to making it a nice time, especially because the hotel was in a safe area with a bunch of resturants and bars down the road.
The evening before the big day we checked it out. There was a famous (and pricy) French restaurant, there was one specialised in seafood, a few bars with bar food, a restaurant with international food, a Nicaraguan restaurant and even a sushi place! More than enough choice for a New Year's feast.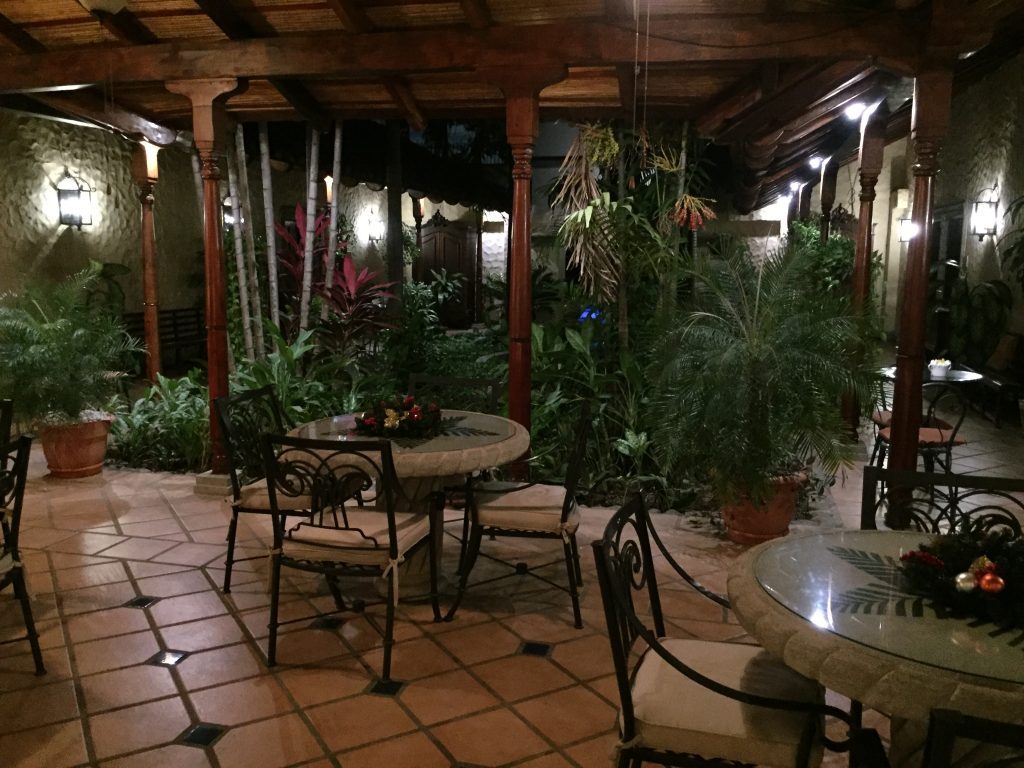 The bars were more or less on the same level: all playing the same ten Shakira–Enrique Iglesias–Daddy Yankee–Nicky Jam Latin American hits over and over again, so perfect! There was even a karaoke bar with mostly 80' music. We said that might be our last resort; I, as a true child of the 80', was counting on going there for sure.
We spent the day of the 31st of December chillin' by the pool, celebrating European midnight at 5pm with some snacks, Casillero del Diablo and a jump in the pool. Food-wise we were saving ourselves for the big dinner later.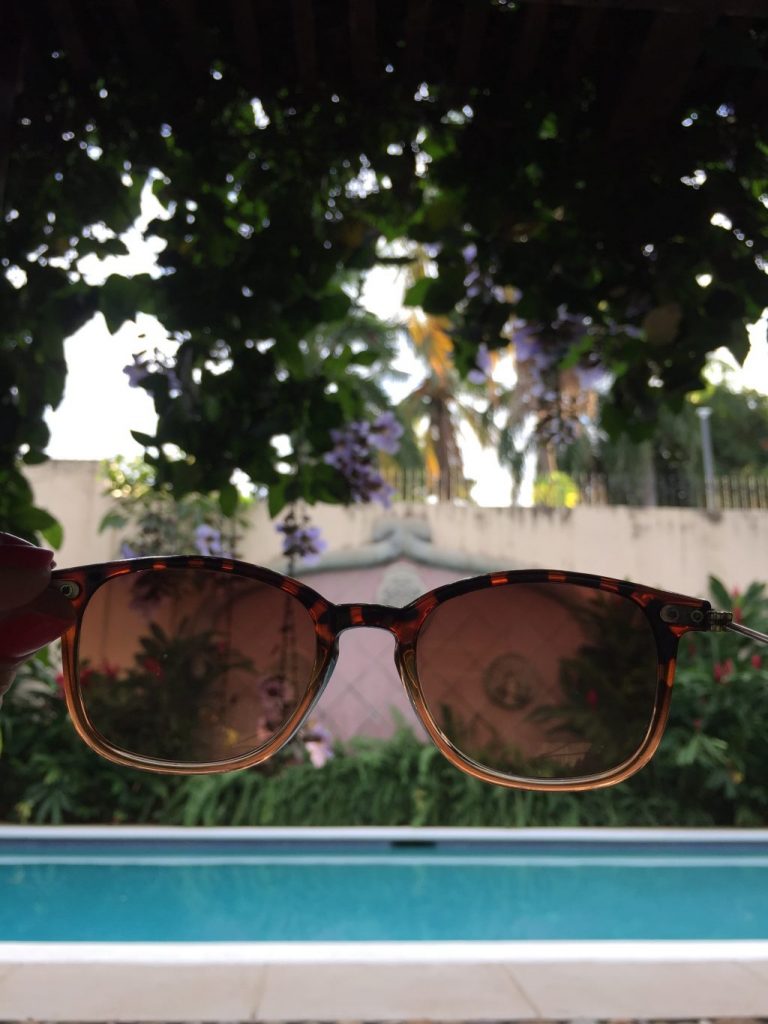 Around 7pm we were quite hungry already, so we got ready, wore the fanciest clothes the backpacker's backpacks contain – I even put on make-up!
At 8pm we head down the road, to the restaurant area. We pass the pricy French restaurant; it was closed, but we weren't planning on going there anyway. The seafood place was next. Closed. The karaoke bar. Closed. The bar across the street from it. Closed. Uhm, hello Nicaragua? It's New Year's eve! International cuisine place: closed. The Nicaraguan restaurant and the sushi place? Closed!
There was one bar that was open, super trashy. There's one like that in every city: dark, the smell of alcohol coming from moist wooden tables and chairs, lights flashing and the music banging. In the one in Managua there were two waiters playing with their phones somewhere in the back of a huge terrace.
8.25pm and still without dinner, apparently stranded in the most boring part of Nicaragua. Getting a taxi and going to another area so late at night and on New Year's eve on top of that was not a good idea, we were told, it's dangerous and we'd probably get into trouble.
I was hungry to the point of agreeing to have dinner at McDonald's. During our walk to the nearest Mac I was thinking: "Oh man, I put on make-up for McDonald's?" But – worry not, it was closed too. Burger King down the road? Closed.
We stopped at what seemed was the only open business in Central America, a supermarket, and bought a bunch of beers. At least we'll get kind of drunk by the hotel pool. The section with prepared food looked so poor, we decided we'll just call Pizza Hut delivery to the hotel and that will be our New Year's dinner.
Fast forward 15 minutes, the hotel receptionist hangs up the phone and looks at us with a blank stare: Pizza Hut? Closed. You've got to be kidding me! We will not even have dinner tonight?
Our hotel guy to the rescue; he ordered the only food it was possible to get that night. As if we hadn't had it just like every day in the last two months: chicken and rice. It was delivered in 10 minutes, not hot, kind of warm, in a plastic box – a whole chicken, without cutlery. We ate it by the pool.
Expectations: Fireworks in the city centre.
Reality: A glimpse of fireworks over the fence of the hotel garden.
Actually, I really really dislike all sorts of sound and light effects people use around New Year's, which in Central America means from mid November to mid January. I do like the official pretty fireworks cities prepare on big occasions. In Ljubljana they are so beautiful, they fire them from the castle on the hill in the middle of the city centre, they last forever and they're amazing. I was hoping to see one of those in Managua. Well no.
After gotten shit scared at least five times a week in the last two months by a bunch of 8 year-olds setting up explosives (not fire-crackers!), on the streets of Guatemala and Nicaragua, I was slowly getting used to a bang and a boom every 10 minutes while in Managua.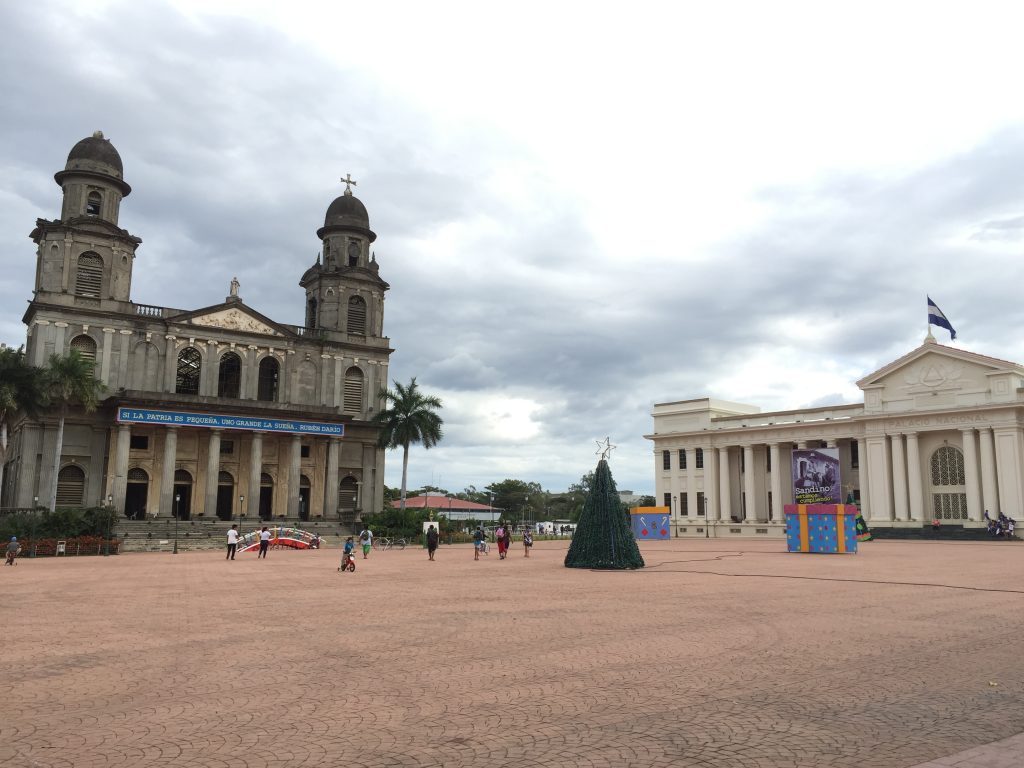 The situation with food described in the first point prevented us from being at a nice terrace overlooking the rooftops of the Nicaraguan capital and witnessing the beautiful colourful fireworks from the highest point of the city, which I don't even know what it is.
So, after the 12 seconds countdown to midnight, during which we did the traditional Spanish grape-eating (I was only able to stuff myself with three grapes, sorry Spaniards), we managed to see some fireworks sparkles behind the 2 meters rock fence in the garden of our well guarded hotel. Super pretty!
Expectations: Sparkling wine at midnight and a party in a cool club in Managua.
Reality: Drinking games by the pool, no drinks to toast with and bed by 1 am.
I think I've been having sparkling wine at midnight for New Year's since I was 8 years old, but that's probably not true, it must have been some years later that my parents allowed me to have alcohol. Still, it has been years already and I'm always having sparkling wine at midnight. Well, not this year.
To deal with the first two points described above, we bought what we thought was a lot of beer in the only supermarket open in Nicaragua that evening. It turned out it wasn't that much really. After we finished our delivery chicken in plastic boxes, we played some really fun drinking games by the pool – and ended up without any booze half an hour before midnight. Yes, there was a bar in the hotel, but guess what? It was closed. So no sparkling wine, and no midnight toast either.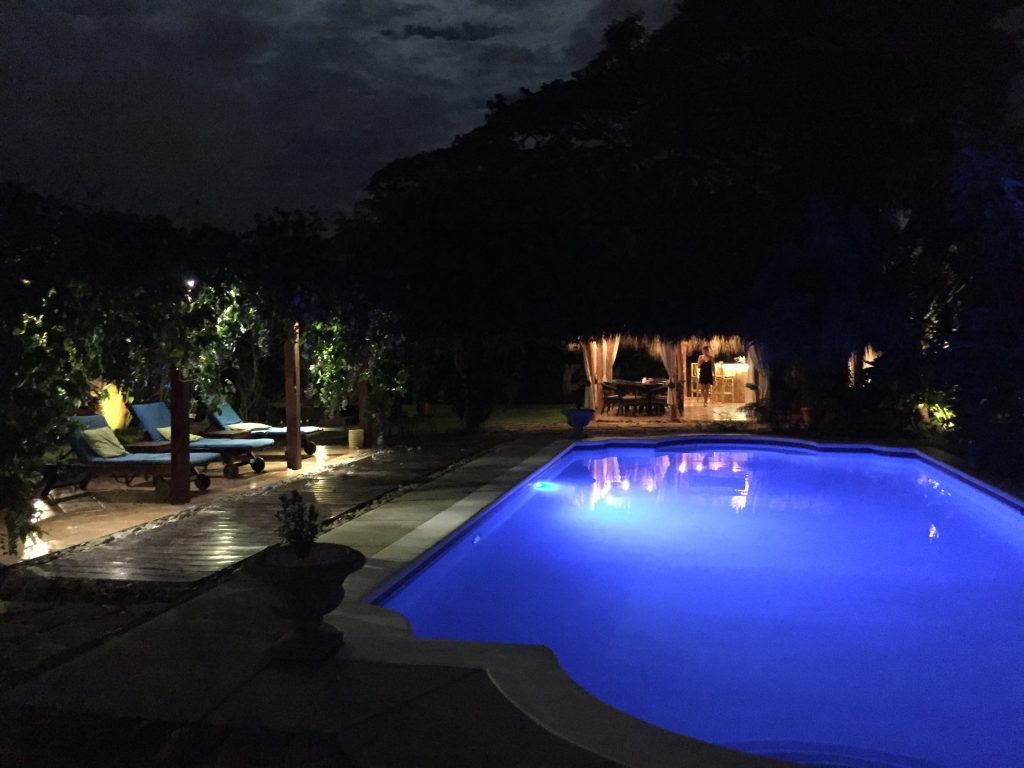 To be fair, in the end it wasn't so bad that all the bars were closed. It might be the boring old lady in me speaking, but the bed in that fancy hotel was amazing! It was so big and so comfortable and so high that my feet were dangling in the air when I was sitting on it, which is why going to sleep at 1am was one of the things I wished for most in that moment. Even though that meant skipping partying in a cool club in Managua. Actually, after being through all this New Year's eve weirdness, I'm not even sure there is a cool club in Managua.
__________
*(1) (2) Didn't happen because I don't read the fine print; who reads the fine print?