Ever since I first heard about chicken buses, I've wanted to take a chicken bus ride. I guess the attraction lies in the name, because in my head actual chickens and roosters are sitting on those busses, looking out of the window. Now, even though outside of my head this is not really the case, it is actually not that far from the truth. I saw live chickens in cages being sold at the market in Antigua Guatemala and I'm sure some of the farmers drove to the market on a chicken bus. So there.
Who's got the most bling-bling?
Central American chicken buses are like a casino-Christmas version of European buses, but then also on steroids. There is blinking, there is flashing, there is shining. There are colours, fluorescent colours. There are fringes hanging from the ceiling, there are furry ornaments next to them. There is "tutu-tuuu-tu-tuuuu" and there is honking and there is music.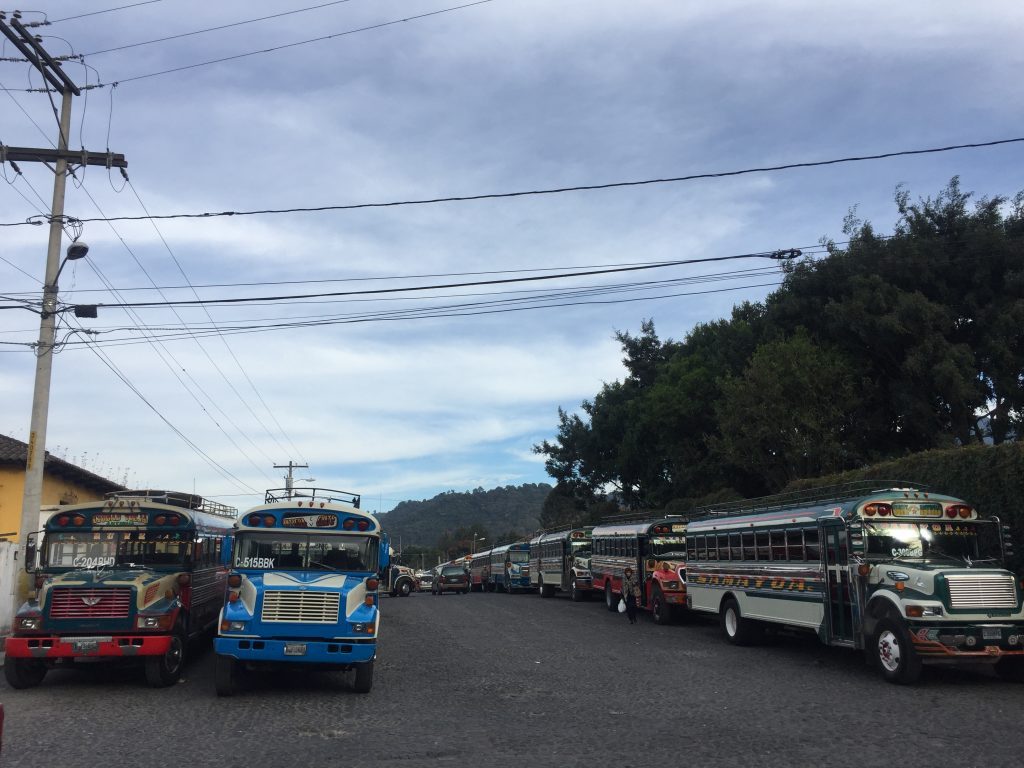 After enough years of service in the US, those yellow school buses we've all seen in the movies, retire and are sent down to Central America where they get a new name: chicken buses. But not before they get seriously pimped up by their new owners, who add as much bling-bling to their vehicles as possible. That increases their attractiveness and woos more customers.
I was told I want to travel with the kitschiest bus, because that shows that there are a lot of customers and therefore more money, which means the owners invest more in safety as well. And travelling with well attached wheels and well checked breaks is what you want most on hilly Guatemalan roads.
What not to expect from a chicken bus ride
My first chicken bus ride was from Antigua Guatemala to Lake Atitlán, one of the most beautiful places I've ever been to. There are tourist shuttles going to the lake from Antigua every day, but chicken buses are cheaper (one third of the price of the shuttle) and can be more exciting too. I took four that day (Antigua – Chimaltenango, Chimaltenango – Los Encuentros, Los Encuentros – Solola and Solola – Panajachel).
Even though I got quite informed about this way of travelling, I made some rookie mistakes before getting on the bus in Antigua. The first one was expecting a schedule. They are called chicken buses, gringa, they leave whenever they feel like it. The only information in terms of timing I could get was when the last bus of the day is, which is usually when it gets dark. Even locals avoid driving at night in Guatemala.
My second mistake was expecting a place where the bus regularly leaves from. They are called chicken buses, gringa, they leave from wherever they fell like it. So my inquiry about the first leg of my journey (Antigua-Chimaltenango) resulted in someone pointing a finger in the distance telling me to find "el autobus azul". In the sea of hundreds of buses and tens of them being azul. But it wasn't that difficult once I only focused on one of the numerous bus drivers and their 'ayudantes' trying to help me.
Ayudantes – those are some cool people! I think I would love that job! They are the guys who stand at the door during the chicken bus ride, sometimes dangerously leaning off the bus and shout destinations to people passing by. They help you get on and off a fast-moving vehicle, handle the luggage and collect the money. Looks like a pretty fun job!
How do you fit a hundred people on a bus? Easy.
When you see how many chicken buses there are at the station in Antigua, you wouldn't expect them to ever be crowded. I was the first one on my bus and I got a cool spot right behind the driver so that I could ask when to get off and do it in time. It turned out later that the spot wasn't as cool as I had expected it to be, as the bus filled up completely and I had to share a two persons bench with my big backpack, another lady and her two enormous bags. I was probably sitting on 20% of that bench. Later on I started to miss that 20% because on other three chicken buses I got on that day I didn't have more than 8% of the bench for my not so tiny behind.
So ok, it can get really crowded. People (sometimes literally) sit on top of each other. But they seem so used to it, it's an experience to see their reactionless faces.
When I got on the second bus (Chimaltenango to Los Encuentros), everything was going on in such a hurry! The bus came from around the corner, it was slowing down a tiny bit while the young ayudante yelled 'Los Encuentros', jumped off and showed me to jumped on the moving bus. I did, climbed the three stairs up to the driver, turned around, accidentally knocked a sprite can of the drivers arm-rest with my big backpack and saw… at least a hundred people tucked one next to another with no space between them looking at me with no expressions on their faces. The situation was so hilarious I had to laugh out loud. But I guess it wasn't so bad, I boarded early enough to get my 8% of the bench: we were six people squeezing in one bus row. I kept one eye on my backpack next to the gearstick. Every few minutes it slipped a bit towards the open front door and the ayudante had to push it back up.
The experienced locals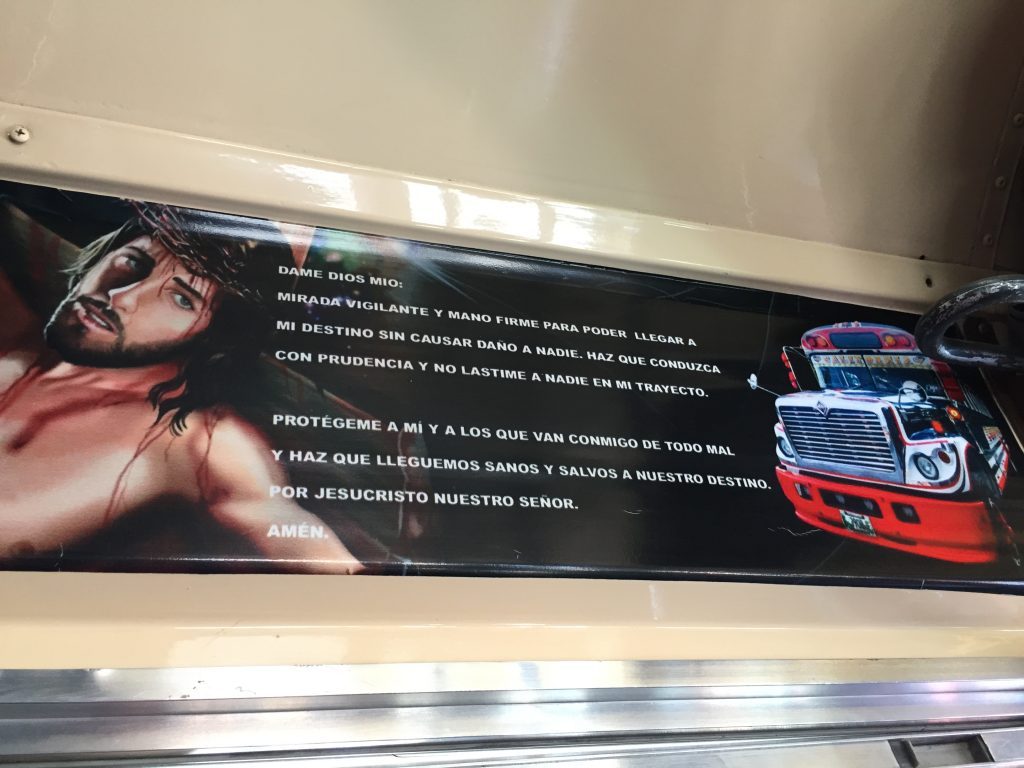 Not even a match fit in that bus anymore, but there was room for a middle-aged lady in traditional Guatemalan clothing we picked up somewhere half-way to Lake Atitlán. She was selling refrescos (sodas) and cheap home made chicken and beef quesadillas. The lady was going up and down that bus like a flying fairy, holding a big basket of goodies, with no effort at all, even though the ride up those Guatemalan mountains was anything but smooth. There were so many turns and we were going so fast, we would've been thrown from one side of the bus to another if we weren't packed as sardines on those hard benches, unable to move.
Holding on tight and leaning from one leg to another gave me a slight muscle ache the next day. But the locals – they were sleeping, doing their make up and feeding their children. Without any effort.