In the middle of December I spent some days in San Pedro La Laguna at Lake Atitlán. San Pedro is one in a handful of small villages on the lake, all with mostly indigenous population. I wanted to stay there for a week of intensive Spanish lessons, but in the end had to cut my time on the shores of Atitlán in half.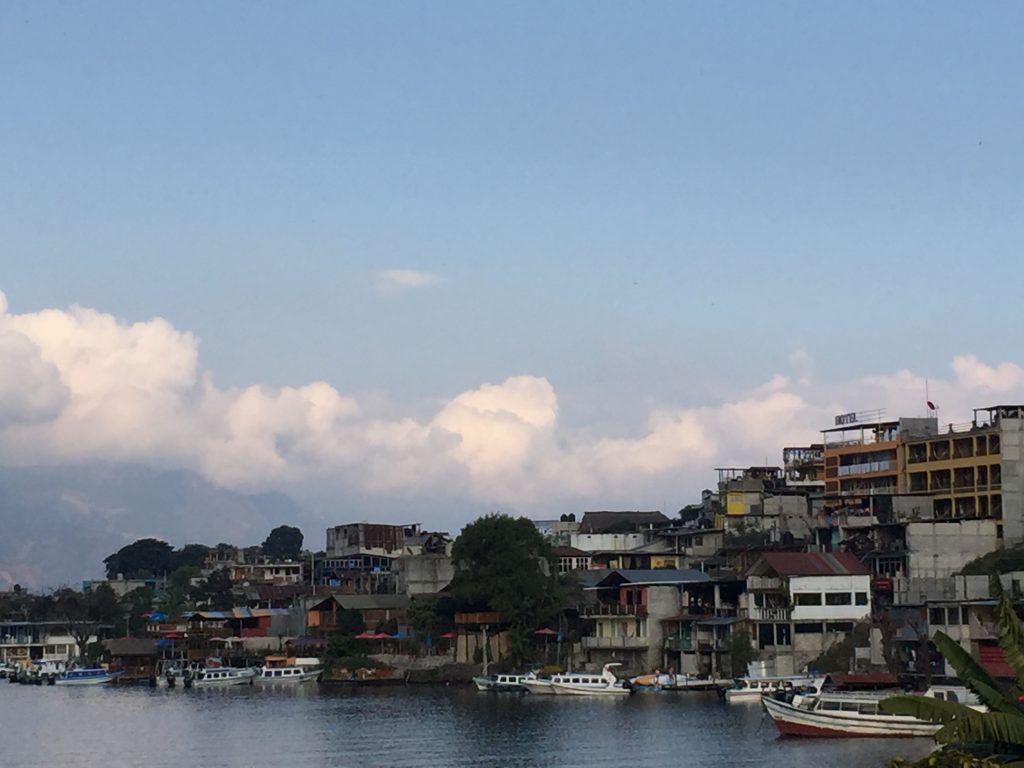 Breath-taking views and charming streets
San Pedro La Laguna is one beautiful place. It is situated at the foot of San Pedro volcano, overlooking the mountains across the lake. The views are simply breath-taking! The streets of the little town are wide enough only for a tuk-tuk taxi and maybe a pedestrian or two, sometimes not even that. The main street, which goes 300 meters left and 300 right from where taxi boats land, is full of cosy restaurants and bars with couches and swings offering fresh juices, smoothies and yummy snacks.
Countless winding roads with shops on every corner lead from the lake up high to the top of hill, where there is a church and a market. There is not much more in San Pedro La Laguna. Even centro medical is there more for decoration than for the necessity. I learned that the hard way.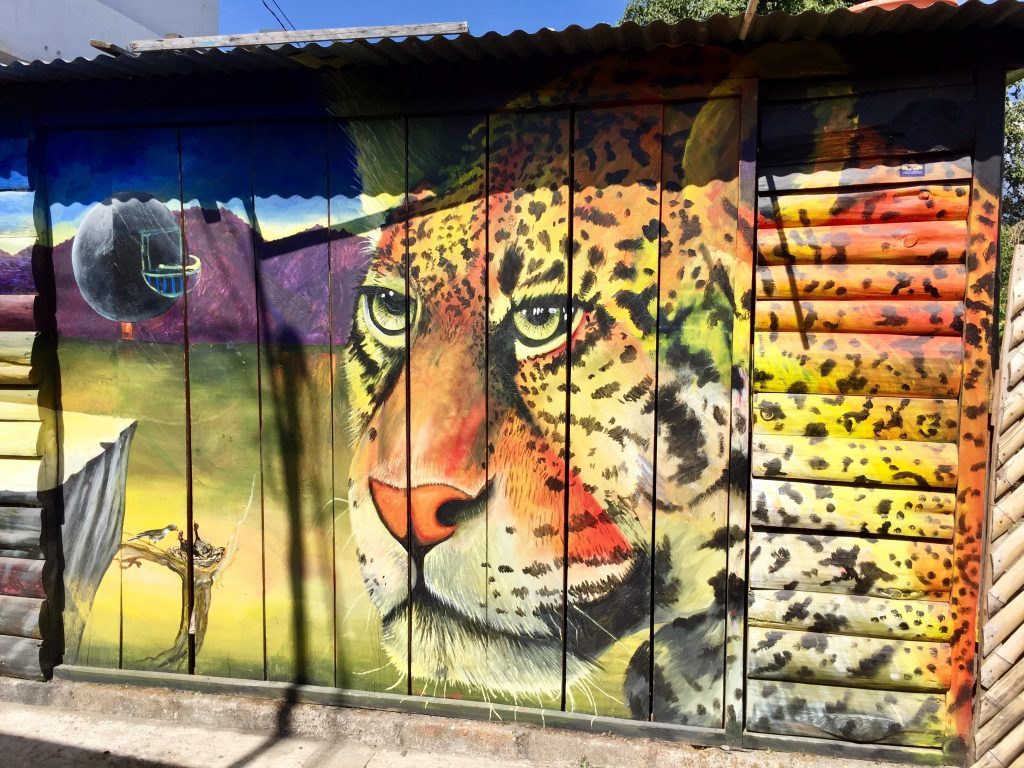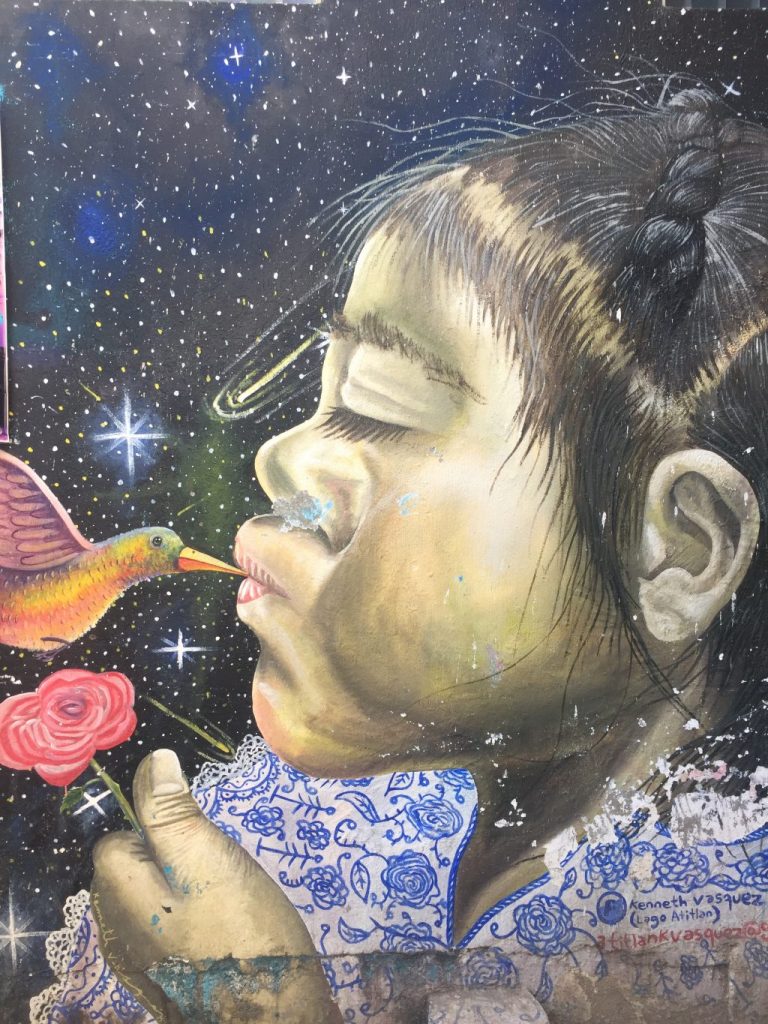 Learning Spanish with an awesome view
I planned for five but ended up having three half-days of Spanish lessons, one-on-one with my teacher Laura in the most beautiful setting I could wish for. San Pedro Spanish School is situated in the lush green gardens on the east side of the village.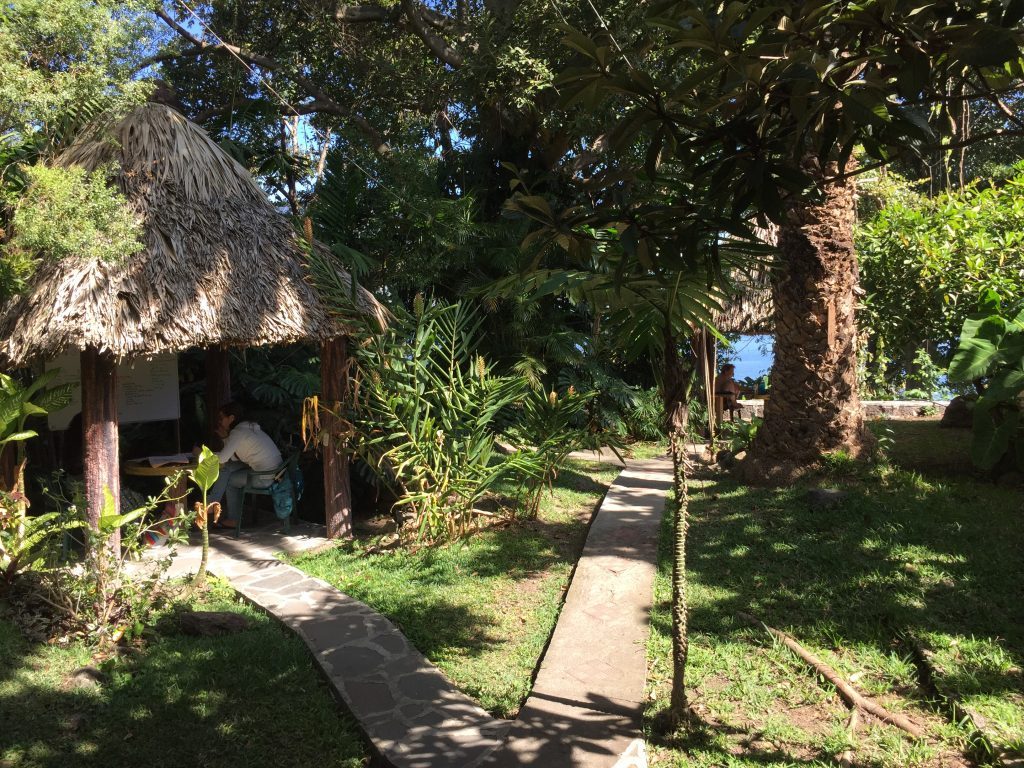 There are little paths in the palm tree forests that lead from one learning station – a table, two chairs and a white-board under a little pavilion roof – to another.  Some of them are overlooking the lake, so in the morning you can see fishermen coming back to the shore in their boats. In the afternoon you can spot local children washing themselves in the lake from your desk.
Laura and I did a quick test of my Spanish on the first day, and it turned out that my time in America Latina was not a complete waste of time! She found I was not a total beginner, and together we decided to work a bit on vocabulary, but mostly on grammar: I felt like I needed a basic explanation of past and future tenses. It was fun and at times funny, as Laura didn't really speak much English, so we were mostly dependent on my clueless tries of explaining things in Spanish. But hey, it's not like I'm not doing that every day with bus drivers, police officers or shop assistants anyway.
Oh, beautiful Lago de Atitlán
Before going to lake Atitlán a former colleague, who had visited the place already, told me I will love it. She was right; it's one of the most beautiful places I have ever been to. Unfortunately, sad things can happen in beautiful places too, but that's another story already. San Pedro La Laguna is definitely a place I will never forget.