The African leg of my trip started when I landed in Ivory Coast and when – even though it was 11pm when I got out of the airplane – I ran into a thick wall of hot humidity, which brought back memories of the last time I felt the sticky air, some weeks ago in Rio de Janeiro.
Clara, a friend I am visiting in Abidjan, told me to be prepared for an hour or maybe even an hour and a half of visa procedures, immigration queuing, vaccination cards checking and luggage waiting. But Africa welcomed me well – it took me less than half an hour before I was done with all the paperwork and out in the arrivals area with my backpack and another 13 kilo bag of goodies I was bringing to a European living in Africa.
"La blanche, la blanche, la blanche!"
… is what you hear as a white girl all the time when you walk down the street in Abidjan. And when I say all the time, I mean all the time. From kids, random men, taxi drivers, shop owners .. Everyone who has three seconds of time to look at you and establish you are white also decides that they should inform you of your skin colour. In Grand Bassam even the goats stopped and turned their heads when we passed them on the street, and I could swear they were just about to "la blanche" us too.
Well, at least Ivorians are grammar-savvy – kids in Burkina Faso called Clara "le blanc".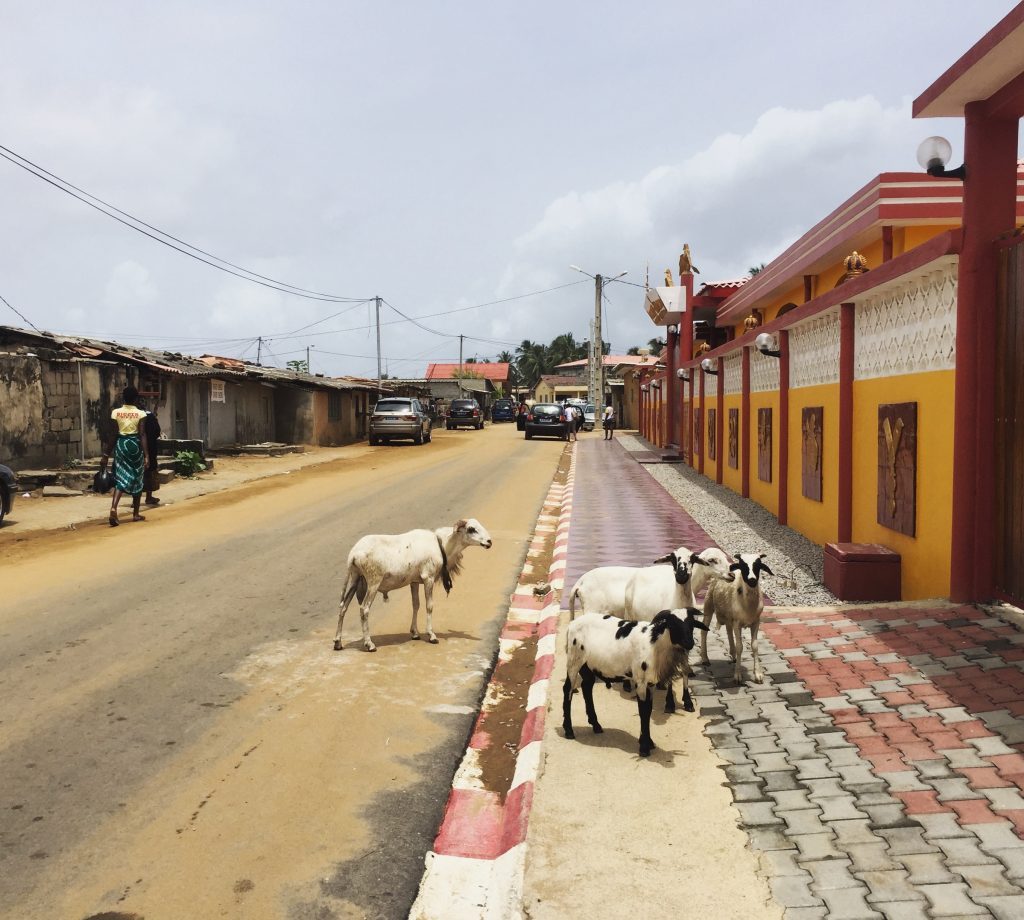 Bat central
When I was in Uganda three years ago I went on a safari and saw four of the big five (only missing the leopard). Still, the animal that always comes to my mind when I think about Africa is the bat. We saw plenty of them then, and also waited for hundreds to spectacularly fly out of a cave at Murchison Falls.
This time in Ivory Coast I have spectacular bat shows twice a day. 6am in the morning is too early for me to get up and watch them, but 12 hours later they are back, taking on Abidjan's Plateau from all sides.
A sacred territory
My favourite part of Abidjan is Blokoss, once an important village of the Ebrié people. It's actually a sacred territory ruled over by the spirit of an eminent king whose power and ubiquity are such that during the Ivorian Civil War neither the rebels nor the government forces dared go near Blokoss.
We went there one afternoon to see how they make attiéké, some sort of Ivorian couscous made of cassava. We walked around the lively neighbourhood with people everywhere and a maquis (that's how they call bars in Ivory Coast) on every corner and ended up having drinks by the water, with our feet in the sand. Perfect!