This is a story about the time I spent in beautiful Petén, birdwatching in ceiba tree forests and climbing the Mayan pyramids at sunrise while howler monkeys' screams were waking the jungle up. It's also a story about how my bank card got skimmed in Guatemala and I lost one nice plane ride worth of money.
I heard it happens to a lot of people that their bank card's magnetic strip gets scanned at ATMs in Guatemala, so I was kind of expecting it. What I wasn't expecting was the way the whole thing was done; together with a group of backpackers we walked into a very cleverly organised tourist scam.
White vans are never any good
It all started in Belize, when I got on a shuttle bus to Flores, Guatemala. Nothing wrong with that, but after four and a half hours of driving, literally five minutes before arriving to the beautiful lake island of Flores, our shuttle bus stopped and we were asked to change to another one. All nine of us, backpackers from Germany, Australia, New Zealand, the US, Chile, Belgium, and Slovenia, got into a modern white van, still smelling of new, welcomed by two men from Maya Expeditions company in Flores. Apparently we had to change vans because the first one had to go to the car wash and the "daily technical check-ups" before it returned to Belize. "It's for the safety of our clients, for your safety," the guys said.
How to get that tourist money
The two men told us they will take us to our hostels and hotels, each one of us, but if we want, we can stop at the shopping mall on the way, where we can all withdraw Guatemalan money. "How organised, this country, and what nice people," I thought, still a bit sour from my stay in Cuba. So all of us from that shuttle got our first quetzals at the ATM in the Maya shopping mall just over the bridge from Flores.
In the meantime, the two men told us about the tours in the area. We all came here to do the sunrise hike to the pyramid at the Mayan ruins site of Tikal. They offered us transport and an English speaking guide for a reduced price, 100 quetzals less than normally, because we used their services coming from Belize.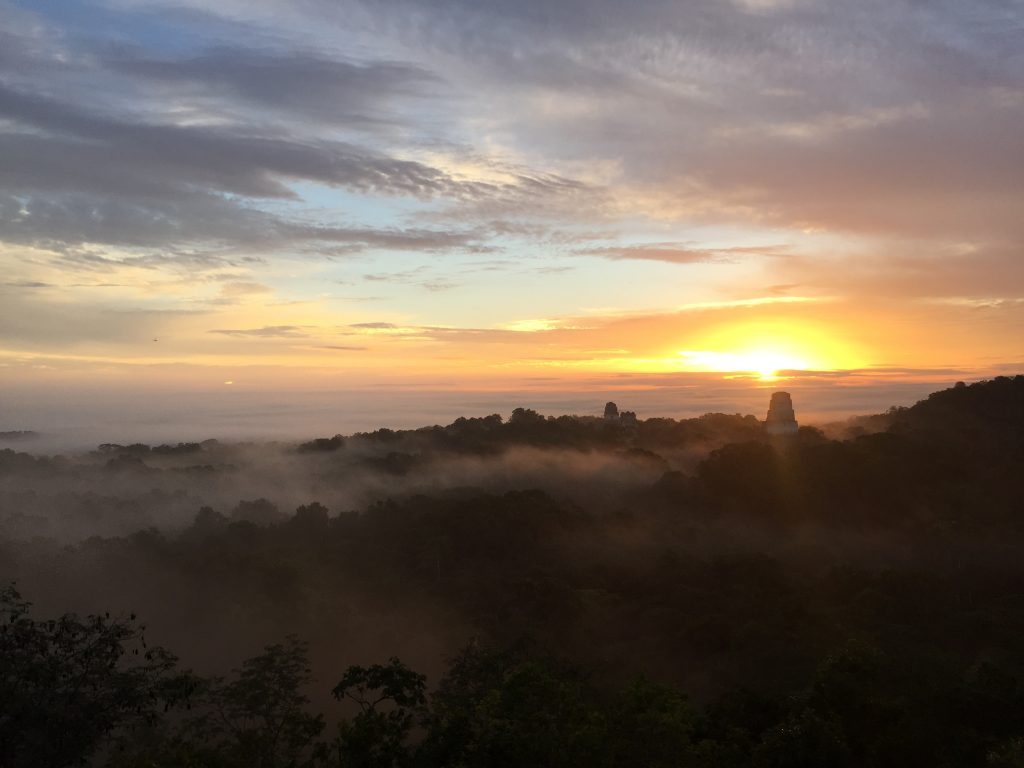 Then instead of taking each of us to our hostel as they promised, they took us to their office. Clearly, they wanted us to book as many tours as possible with them. I was tired (as I often am) and hungry (as I often am), and ended up having a little beef with the main guy. He was avoiding to answer my questions, and kept pushing me to book with them: "This is the cheapest Tikal tour you will find in Flores." I turned around in the middle of the conversation and walked out of that office, upset just enough to turn down the ride to the hostel as well and just walk there.
Later I found the same tour for half of the price the Maya Expeditions guy was offering.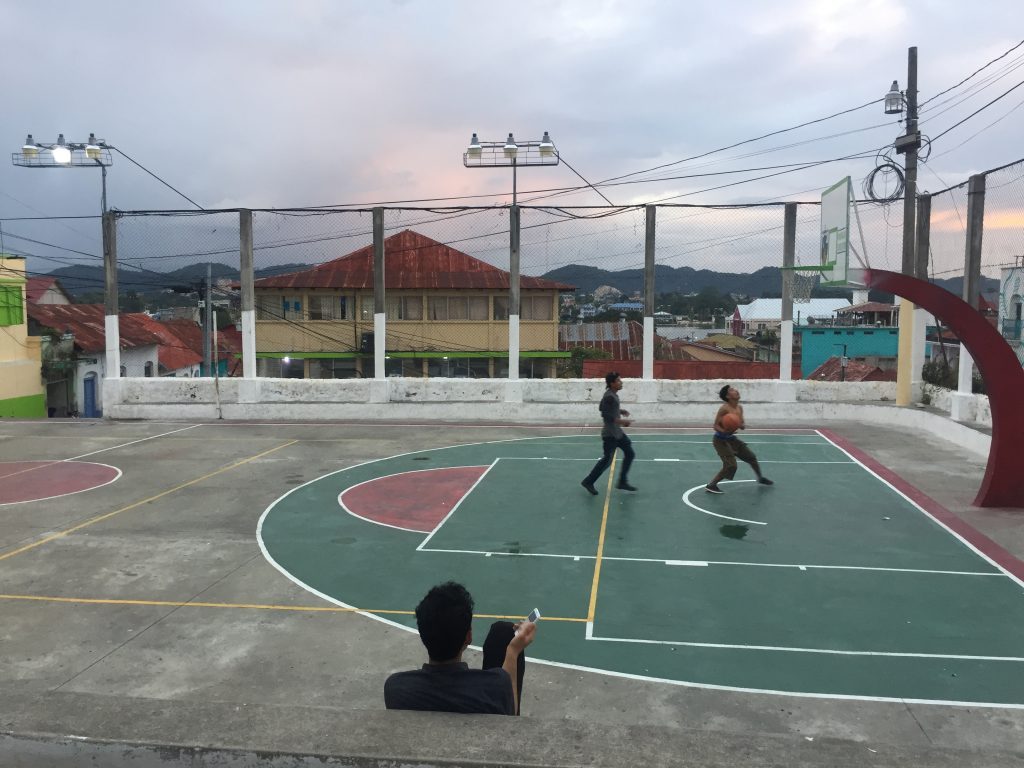 "I got scammed, you too?"
The next morning Kelly, a girl from the shuttle bus, wrote to me that her credit card got skimmed, either at the supermarket or one of the two ATMs she used in Flores; someone withdrew 240 euros from her account. Shitty, she had to cancel the card. I checked my account, the money was still there, but the ATM transaction from the day before wasn't listed yet.
Fast forward two days: after an amazing sunrise from a pyramid in the middle of the jungle and two nice days spent in Flores, I was on my way to Semuc Champey, again in a shuttle bus. We stopped at a gas station, as usually I went to el baño, and there I met Kelly, also on her way to Semuc. She told me that the American who came with us from Belize also got scammed – they took money from his account twice. At that point I knew – it was the ATM the Maya Expedition guys took us to.
I checked my banking app again and there it was: the withdrawal I made on Tuesday, and then another one on Wednesday with the same amount and another one on Thursday. 500 euros, hasta luego!
After that it all fell into place:
how the Maya Expeditions guys told us that the ATM in Flores often runs out of money, so they will take us to the one that always works – but also has a skimming machine;
how I thought it was weird that the ATM had a really big cover for the numbers; I had to kneel down to see I was typing in the right numbers – but it was probably this big only so that it could hide the camera recording my pin;
how we drove pass our hostels and went to Maya Expeditions office first – only so that we would book their overpriced tours;
how they told the German couple who forgot their phone in the first shuttle that they will get it back – but they should book tours with them;
how one of the guys got really upset when I said I won't buy their tour;
how we later found that Maya Expeditions tour and transportation prices were double of other companies in Flores.
Out of the seven people who withdrew money from the ATM we were taken to, I know for sure four of us got our bank cards skimmed. Later I googled "Maya Expeditions Flores" and when I saw the search results my hand went all around the room to hit my forehead in a facepalm. Yep, it was an organised money scam we all fell for.
What to do to avoid having your card skimmed
It's difficult to recognise an ATM with a skimming machine, but you can take some precautions to avoid having your bank card's information stolen:
use a bank-operated ATM, those are less likely to have skimming machines
always cover your fingers when you're typing in your pin code to avoid having it recorded by camera. Also, touch all of the numbers on the keypad, new systems use thermal sensors to get your pin!
if the keys seem hard to push, eject your card and don't use the ATM
check your bank statements often for unusual transactions and report them to your bank.